Bad Words Filter Demo
Questions and Answers Forum Plugin
The plugin provides a Bad Words Filter, which allows you to define which words/phrases are forbidden for posting on your forum.
Below you can find a question form, where you can try to post a question using some curse words.
You will see a message that the content cannot be posted because it contains bad words.
Here are some words that we added to our filter, which you can test:
heck | darn | fudge | crud | son of a gun
*please, keep polite while testing it, as it's just a demo page 🙂
How To Configure The Bad Words Filter?
To configure it, you just need to enable the corresponding option in plugin settings and add the list of forbidden words/phrases - one item per line.
You can either just put an exact word to limit it or you can use regular expressions (compatible with preg_match() in PHP) by wrapping the expression by slashes, for example: /(bad)?words?/
In case of using regular expressions, the plugin may block some similar words may differ by last letters, for example, or if its a part of some bigger word.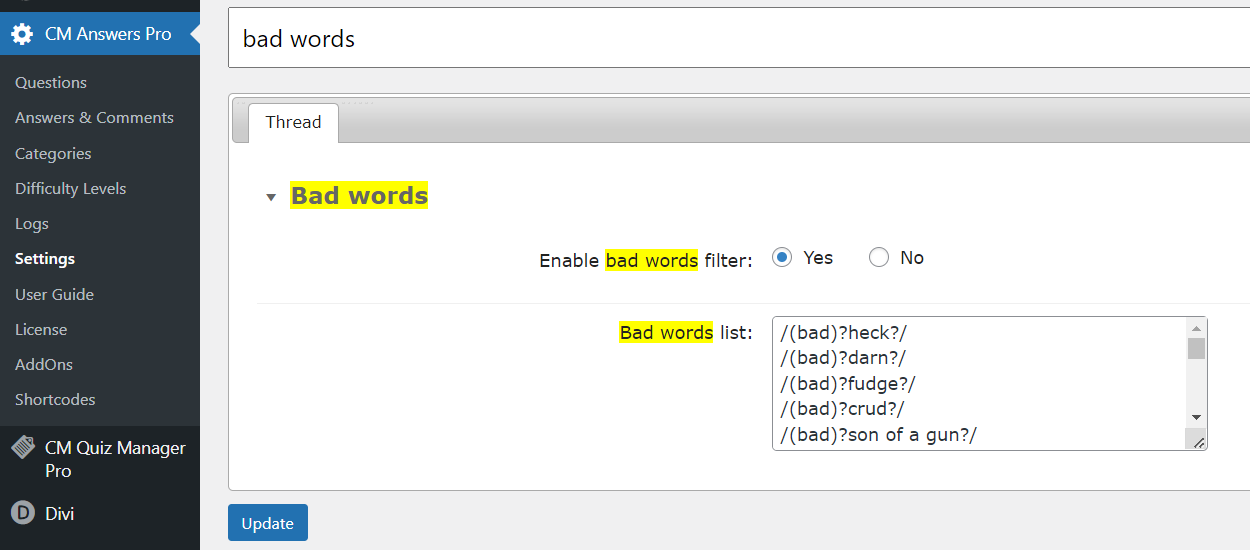 CreativeMinds Questions and Answers Forum Plugin for WordPress allows to build a community discussion forum or knowledge base. Users can post questions, answers, comments, and vote on the best answers with this top-rated WordPress Question and Answer plugin. Includes multiple forums, file attachments, moderation, notifications, access control, payment support, beautiful interface and much more.
For more information go to the plugin product page
Available Questions and Answers Forum Plugin Demos